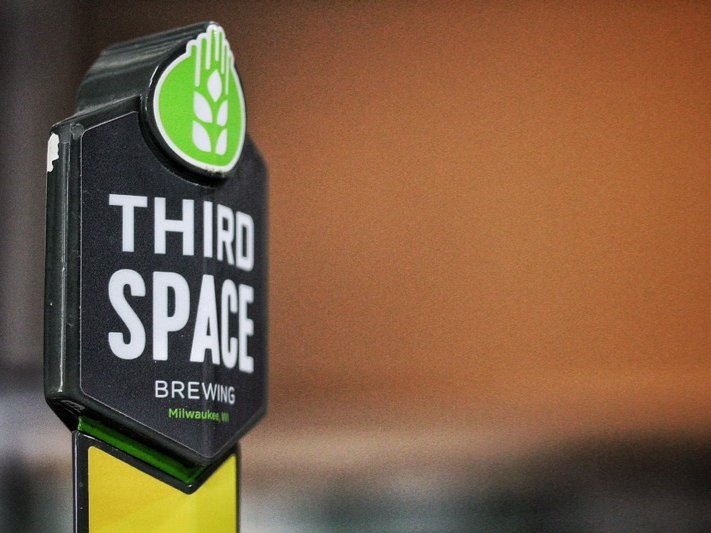 Third Space Brewing hit a milestone today as it began brewing its very first beer in the new brewery. (PHOTO: Karl Herschede Photography)
Construction of the taproom at Third Space Brewing, slated to open at 1505 W. St. Paul Ave., is well underway. And, according to co-owner Andrew Gehl, the brewery may be able to open its doors as soon as mid-September.
In the meantime, the first grains have been milled and the shiny new kettles are bubbling away today as brewmaster Kevin Wright fires up the very first batch of Third Space beer in the new digs.
Acres Edge is the name of the inaugural brew, an oatmeal stout which Wright describes as having big stout flavor with coffee, espresso and dark chocolate notes.
"We're using a crystal oat malt that gives a nice toasty nutty flavor," he says. "And the recipe has lots of oats for a really creamy body. It's an everyday stout for people who love stout; but it's also a beer that seems to appeal even to people who don't love stout. It relies a lot on the balance, so it's harder to brew than some other beers; but that means it really offers more reward to the beer drinker."
The name, says Gehl, references a campsite at Camp Minikani where he met Wright. "Plus, there's no better place to drink a beer than around a campfire," he notes.
Once Acres Edge is underway, Gehl says they'll embark on brewing three additional beers, which will debut at the Third Space taproom (or potentially at a local bar or two).
Happy Place
It's the place everyone wants to go when they sit down to drink a cool, refreshing beer at the end of a long day. And that's exactly what Wright says he's trying to conjure with a beer he's labeling as a Midwest pale ale.
"We're focusing on new school hops for our beer," notes Wright. "They really have a lot of fruit and floral notes, not just the bitterness and citrus flavor. This beer is more balanced toward flavor and aroma … it's hoppy, but not bitter. And it's not aggressive or over the top. It's lower in alcohol than an IPA, so it's really a beer for craft beer drinkers who like a lot of flavor, but want an all-day drinking beer."
A few folks, including Mayor Tom Barrett, were able to taste Happy Place this past June at the ribbon cutting ceremony for the Kimpton Journeyman Hotel. However, the rest of Milwaukee will have to wait just a bit longer to get their hands on it.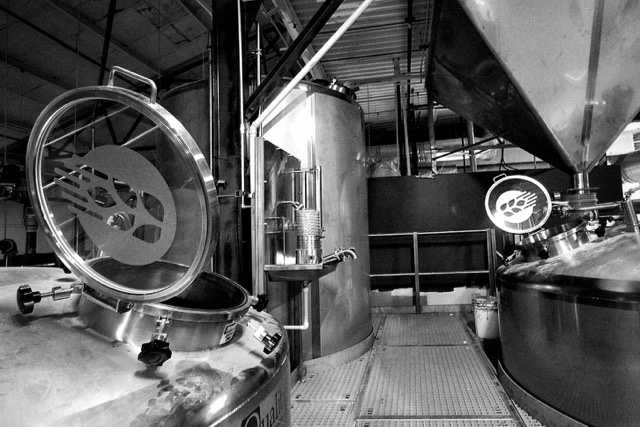 That's Gold!
Next up is a golden kolsch that Wright says is a throwback to the original golden ales that were popular during the beginning of the micro-brewery revolution in the '80s and '90s.
"It's a kolsch in spirit," says Wright. "But, for this version, we're using an American yeast, rather than the more traditional German yeast and we're using a Pilsner malt from Malt Europe right here in Milwaukee. It's a classic refreshing beer that's really easy drinking. It's perfect for people who like lighter style beers that aren't hoppy, but still have a lot of flavor. It's also a nice beer for craft beer drinkers who understand quality and flavor and appreciate the subtleties."
Upward Spiral
Last, but not least, is the Third Space West Coast style IPA.
"This is the first beer I was really focused on making," Wright says. "I don't think there's a lot of representation for these types of beers in the local market. So, I'm excited for people to try it. We were really careful in selecting the right malt profile, because we didn't want it to taste thin. But we also didn't want the malt to crowd out the flavor of the hops. We're using a blend of five different hops with big aromas and lots of great citrus and tropical fruit, along with a few unique piney notes. This is for someone who really loves their hops. But, it's balanced, not bitter. Definitely not a palate-wrecker."
"We went through the IBU rush a few years ago, and that's over," he goes on. "Now it's about how to deliver as much flavor as possible in a beer that is really drinkable."
Onward & upward
Drinkability, says Gehl, will be a hallmark of the beer that flows from the Third Space brewery. But another element that's just as key will be an upbeat attitude, including beer names that really encompass the spirit behind the brand.
"We want to really back up the idea of this third space where people want to hang out and gather," he says. "So every beer really needs to reflect that vibe. The names are all purposely very positive. The IPA is intentionally called Upward Spiral, not Downward Spiral. The idea is that when you drink it, you'll feel better, like the day is looking up."
In addition to the four core brews, Gehl says they're likely to start brewing a seasonal beer or two in the coming months; but, for now, it's about introducing people to a solid foundation.
"Overall, the goal for these four beers is to create a really solid core for Third Space," says Gehl. "And they're beers that will appeal to people all year round. Even the kolsch isn't just a lawnmower beer. It will also taste spectacular in the fall and winter."
For more information on Third Space Brewing visit thirdspacebrewing.com. Or follow the brewery on Facebook, Twitter or Instagram.